The Rose property is located in northern Québec's administrative region, on the territory of Eeyou Istchee James Bay. It is located on Category III land, on the Traditional Lands of the Eastmain Community, approximately 40 kilometers north of the Cree village of Nemaska located approximately 300 km north-west of Chibougamau.
The Rose property is accessible by road via the Route du Nord, usable all year round from Chibougamau. The mine site can also be reached by Matagami, via Route 109 and Route du Nord.
> Watch Rose Lithium-Tantalum Project Life Cycle
The Nemiscau airport services the regions air travel needs.
The Rose property site is located 50 km by road from the Nemiscau airport.
80 km south of Goldcorp's Éléonore gold mine
45 km north-west of Nemaska's Whabouchi lithium project
20 km south of Hydro Québec's Eastmain 1 hydroelectricity generating plant.
The Rose property comprises 473 claims spread over a 24,654.81 ha area. Geologically, the Rose property is located at the north-east end of the Archean Superior Province of the Canadian Shield.
Average annual production
186,327 tonnes of chemical grade lithium concentrate
50,205 tonnes of technical grade lithium concentrate
429 tonnes of tantalum concentrate.
Expected life of mine of 17 years.
Average operating costs
$66.56 per tonne milled, $458 (US$344) per tonne of concentrate (all concentrate production combined).
Estimated initial capital cost $341.2 million before working capital.
100% equity basis for project.
Average gross margin 63.6%
After-tax NPV of $726 million (at 8% discount rate), after-tax IRR of 34.9% and price assumption of US$1,500 per tonne technical grade lithium concentrate, US$750 per tonne chemical grade lithium concentrate, US$130 per kg tantalum pentoxide
Anticipated construction time to start of production of 21 months
The completion of the feasibility on the spodumene plant is the first step to enter the market and establish the company as a reliable high quality lithium supplier. The low-risk approach is characterised by simple open-pit mining and conventional lithium processing technologies.
The feasibility is based on a conventional truck and shovel open pit operation and a conventional milling process to produce technical and chemical grade spodumene concentrates and a tantalite concentrate.
The mine will excavate a total of 26.8M tonnes ore grading an average of 0.85% Li2O and 133 ppm Ta2O5 after dilution. The mill will process 1.61M tonnes of ore per year to produce an annual average of 236,532 tonnes of technical and chemical grade spodumene concentrates and 429 tonnes of tantalite concentrate.
The ore is contained in several parallel and continuous low dipping pegmatite veins outcropping on surface. The ore zones are open at depth and a future underground operation is possible.
Over the life of mine, the open pit will excavate a total of 182.4M tonnes of waste rock and 11.0 M tonnes of overburden. The average strip ratio is 7.2 tonnes of stripping per tonne of ore.
OPEN PIT MINING RATE OF 1,610,000 TPY
SPODUMENE PROCESS PLANT WITH A 4,900 TPD NOMINAL CAPACITY
A conventional truck and shovel open-pit approach was considered to mine the Rose Lithium-Tantalum Project's Probable Mineral Reserves. The dimensions of the engineered pit design are approximately 1,620m long x 900m wide x 200m deep.
The life of mine plan (LOM) proposes to mine 26.8 Mt of ore, 182.4 Mt of waste, and 11.0 Mt of overburden for a total of 220.2 Mt of material. The average stripping ratio is 7.2 tonnes of stripping per tonne of ore. The nominal production rate is estimated at 4,600 tonnes per day and 350 operating days per year.
The mining operation production rate is set to approximately 15 Mt of material per year. An open pit mining schedule was planned and resulted in a mine life of 17 years.
Contract mining will be used for the removal of the overburden while Critical Elements Lithium Corporation will undertake the mining of all hard rock material with its own equipment fleet and operators.
The main production fleet will consist of one (1) backhoe excavator, one (1) electric front shovel, one (1) wheel loader, seven (7) haul trucks (65t), seven (7) haul trucks (135t), two (2) rotary drills, one (1) DTH drill, two (2) bulldozers, one (1) wheel dozer, two (2) graders, and two (2) water trucks.
The Rose project pit was designed with a 10m single benching arrangement. A 57° inter-ramp angle and an overall pit slope angle of 55° were utilized for the ultimate pit design. A berm width of 7.0m corresponding to the recommended overall slope angle was used. The pit slopes in overburden have a face ratio of 2.5:1 with a 10m berm width.
The main in-pit haulage ramp is designed at 30.9m wide to allow a double-lane traffic, except for the last benches at the pit bottom that are designed at 20.4m wide for single lane traffic. A 2m drainage ditch is included to allow for water drainage and pipe installation. The maximum gradient of the inner curvature of all ramp segments is 10%.

Rose Pit Side View Looking West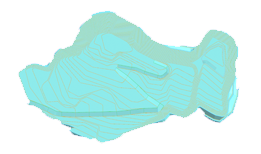 Rose Pit Side View
A standard froth flotation process will be utilized to produce technical grade and chemical grade lithium concentrates and a tantalum concentrate. The mineral process plant will consist of crushing, beneficiation, and dewatering areas.
The technical grade lithium concentrate will grade 6.0% Li2O
The chemical grade lithium concentrate will grade 5.0% Li2O.
The tantalum concentrate will grade 20% Ta2O5.
The beneficiation process includes crushing, grinding, magnetic separation and flotation. The crushing circuit will consist of a jaw crusher and two (secondary and tertiary) cone crushers, and screens. The crushed ore will have a P80 of 13mm and will be stockpiled in a 9,200 tonnes capacity dome; this is sufficient for approximately two days of mill operation. The grinding circuit will consist of a ball mill operating in a closed circuit and a two-stage cyclone cluster. The tantalum will first be recovered at a grade of 2.0% Ta2O5 by high intensity magnetic separation then upgraded further to 20.0% Ta2O5 by gravity separation. The tantalum concentrate will then be thickened, vacuum filtered, dried to 1% moisture and bagged, ready for shipping. The lithium flotation circuit will remove slimes, separate mica, and purify the lithium to the required grade. The spodumene concentrate will then be thickened, vacuum filtered, dried to 1% moisture, and stored in 1500 tonne silo from where it can be bulk loaded into trucks. The tailings will be thickened, vacuum filtered to 15% moisture, and trucked to the waste rock / tailings piles where it will be dry stacked.
The spodumene plant will operate 24 hours per day, seven (7) days per week, and 52 weeks per year.
The process plant was designed with an operating availability of 90%.
The crushing circuit was designed using an operating availability of 50%.
The concentrator capacity has been established at a nominal throughput rate of 4 900 dry tonnes per day.
The plant has a capacity of 1,610,000 per year.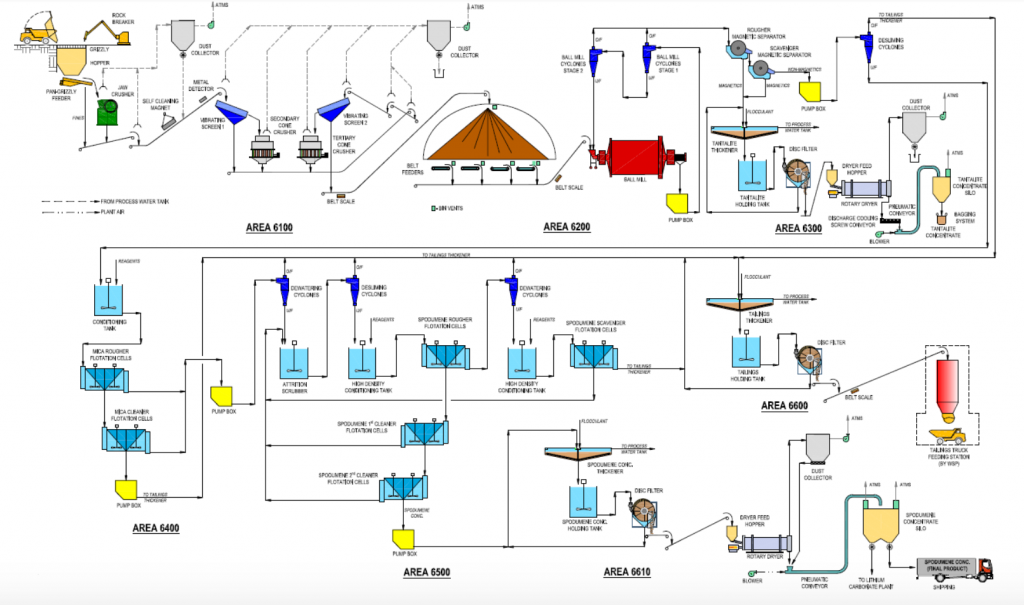 The feasibility study assumes 87.3% and 90% recovery for technical and chemical grade lithium concentrates respectively and 40% recovery for the tantalum concentrate. Process water will be recycled releasing minimal amounts to the equalization pond and final effluent treatment plant.
Electricity will be provided by Hydro-Québec. A 315 kV electrical transport line (L3176), owned by Hydro-Québec, runs North-South over the eastern side of the Rose Property. It runs over the planned open pit. The portion running over the open pit will be rerouted to allow open pit operation.
Critical Elements Lithium Corporation and Hydro-Québec have signed an agreement to conduct a technical study for the supply of electricity to the mine and the rerouting of the power line. Hydro-Québec is currently conducting this study. In a previous study Hydro-Québec provided costs for preparation work in supplying electrical power and for the rerouting of the power line which is to be incurred by the mine. These costs were incorporated in the FS. The schedule of the power line relocation fits with Critical Elements Lithium Corporation construction schedule such that electrical power will be available from the main grid in time for the mill commissioning and start-up. The 315kV power line reroute will total 4.2 km.
The power demand for the project has been estimated at about 13,486 kW (15,615 kVA) and a reserve of up to 20 MVA has been accepted by Hydro-Québec. Two 15 MW transformers will operate at the same time to feed the site and the processing plant. The transformers will feed the 25 kV mine site electrical network. Power lines are necessary to feed the processing plant, the industrial pad, the final water treatment plant, the open pit and wells, the pumps at the waste rock / dry tailings water collecting ponds, and the explosives and detonator storage facilities. A total of 15.5 km of power lines are planned.
The project infrastructure includes site main services and haulage roads, explosive and detonator storage, a spodumene processing plant, a pit equipment maintenance facility, a warehouse, diesel and gasoline storage, LNG storage and distribution, ore stockpile pad, waste rock and dry tailings stockpile, overburden stockpile, main electrical substation and distribution, fresh and potable water supply, sewage, surface water management, final effluent treatment, communication system, gate house, and an administrative building.
A lithium carbonation plant is not included in the feasibility study, but additional space is provided on the industrial pad and services are planned for future installation.
Waste rock and tailings samples were analysed at the SGS Canada's laboratory in Lakefield and both were found to be non-acid generating. The dry tailings and the waste rock will be stored in the same facility which has sufficient capacity for the life of mine. Rain and melt water will be collected in ditches and pumped to the water treatment plant.
The ore pad will have a 3.9M tonne capacity where low grade material may be stored.
The industrial pad has an area of 296,000 m2 and will contain the process plant, the maintenance facility, warehouse, administration building, diesel and gasoline storage tanks, LNG storage and distribution, and all associated services. LNG will be used for buildings heating and for the drying of the lithium and tantalum concentrates. The LNG facility will be in place for the kiln of a lithium carbonate plant if required, necessitating the addition of only one additional reservoir.
The hydrology study has suggested that water inflow to the open pit is to be expected. In order to maximize pit slopes, water wells will be constructed around the pit periphery to lower the water table below the pit floor. One of these wells will be used to supply the mine site with fresh water. Water from the other wells will be directed directly to the final effluent.
Impacted water from the waste rock / dry tailings pad, the open pit, the industrial pad, and roads will be collected in an equalization pond and treated before being released as final effluent.
The mine site will have a 2.7 km main access road from the Eastmain 1 road to the industrial pad. Including the service roads, the site will total 15.8 km of roads.
PRE-TAX IRR ESTIMATED AT 48.2% NPV AT $1,257 B AT A DISCOUNT RATE OF 8%
The mine will process 1,610,000 tonnes ore per year grading an average of 0.85% Li2O and 133 gpt Ta2O5 over a period of 17 years.
Click for : Critical Elements Announces Positive Feasibility Study With a Pre-Tax NPV 8% of $1.257 B and a Pre-Tax IRR of 48.2% For Its Rose Lithium Project
ECONOMICS 1,2,3
Units
Value
Initial Capital Cost Estimate
$M
341
After-Tax Cash Flow
$M
1,567
After-Tax NPV 8%
$M
726
After-Tax IRR
%
34,9%
After-Tax Payback Period
Years
2,8
Note: Completed in September 2017

5% Li2O Concentrate, Chemical Grade FOB Port of US$750 per tonne
6% Li2O Concentrate, Technical Grade FOB Port of US$1,500 per tonne
Ta2O5 contained in Concentrate FOB Mine Site of US$130 per kilogram
Operating Costs
The operating costs are estimated at $66.56 per tonne of ore processed which include:
Mining $30.69 per tonne processed
Processing $16.14 per tonne processed
G&A $12.15 per tonne processed
Concentrate transportation $

  

7.57 per tonne processed
The operating costs are estimated at $458/tonne (US$344/tonne) of concentrate.
Energy unit costs are $0.05 per kWh for electricity, $0.95 per litre for diesel, and $0.546 per m3 for LNG.
Capital Costs
The capital and operating costs were estimated in Canadian dollars. An economic analysis was conducted with a discounted cash-flow before and after tax. The initial capital cost is estimated at CA$341.2M including all infrastructures described earlier with a 10% contingency. The sustaining capital is estimated at CA$126.8M over the life of mine.
The total payable products are estimated at 3,070,006 tonnes of chemical grade Li2O concentrate, 827,196 tonnes of technical grade Li2O concentrate, and 7,157 tonnes of Ta2O5 concentrate.