Gold, Copper, Nickel, PGE
Property description
The Lemare Property is composed of one block totaling 165 claims covering an area of 7,806.82 ha for over 20 kilometers in length in a SW-NE direction. It is contiguous to the Nisk property on its North West border. Secondary roads running from a Hydro-Québec power line and permanent gravel roads that run along its North West boundary give access all through the property.
On February 11, 2016 the Company and Lepidico has entered into a binding agreement ("Agreement") that gives the right to Lepidico to acquire up to a 75% interest in the Lemare lithium project.
Terms of the transaction
Under the Agreement, Lepidico will earn its interest in Lemare by way of a farm-in arrangement. The key terms of the Agreement are detailed in the table below:
Conditions

$15,000 cash payment at the signature of the Agreement
60 day period for Lepidico to undertake additional due diligence

Upon exercise of right to farm-in post due diligence

$35,000 cash payment on or before May 10, 2016
$500,000 payment in shares or cash on or before May 10, 2016, such value to be determined by dividing the 5 day volume weighted average price ("VWAP") of the Shares immediately following the completion of the "going public transaction" between Lepidico and Platypus Minerals Ltd or another Australian Securities Exchange ("ASX") listed company.
$35,000 cash payment on or before September 9, 2016

Earn 50% interest

Lepidico to spend $800,000 by December 31, 2016 in exploration expenses
Lepidico to spend additional $1,200,000 by December 31, 2017 in exploration expenses
Lepidico to deliver a Joint Ore Reserves Committee ("JORC") Code compliant resource by December 31, 2017

Earn additional 25% interest (total 75%)

Completion of definitive feasibility study and environmental study on Lemare by June 30, 2020
Payment of $2,500,000 (cash or shares)

Royalty

2% Net Smelter Royalty ("NSR") payable to Critical Elements
Rights to buy back 1% of the NSR for $2,000,000

Milestone Payment

Maximum payment of $1,500,000 in cash or shares for delineation of a JORC resource in excess of 20.0Mt at a cut-off grade of 0.6% LI2O
In October 2012, Monarques collected 43 channel samples from six trenches totalling 62 metres in length across the exposed spodumene pegmatite. Of these, 11 samples returned a LI2O content superior to 2%. The results of the channel sampling are shown in the table below:
Table. Channel sampling results from Lemare (Monarques Resources Inc.)
| Channel | Grade LI2O % | Length (metres) |
| --- | --- | --- |
| LEM(Li)-12-R1 | 1.61 | 9.5 |
| including | 2.00 | 6.0 |
| LEM(Li)-12-R2 | 1.96 | 12.0 |
| including | 2.68 | 6.0 |
| LEM(Li)-12-R3 | 1.74 | 10.5 |
| LEM(Li)-12-R4 | 2.12 | 4.8 |
| LEM(Li)-12-R5 | 1.18 | 14.2 |
| including | 1.58 | 10.1 |
| LEM(Li)-12-R6 | 0.42 | 10.5 |
| including | 1.12 | 3.0 |
Initial exploration at Lemare was undertaken in 2012 by Monarques Resource Inc. who discovered a "granite pegmatite dyke containing a considerable amount of spodumene." The pegmatite ranges in apparent thickness from 4.8 to 14.2 metres and was followed for close to 200 metres in length on surface. The full length of the dyke remains unknown and is open in both directions. The pegmatite is undrilled so the depth extent also remains unknown.
Figure 1. Trenching program at Lemare showing the six trenches channel sampled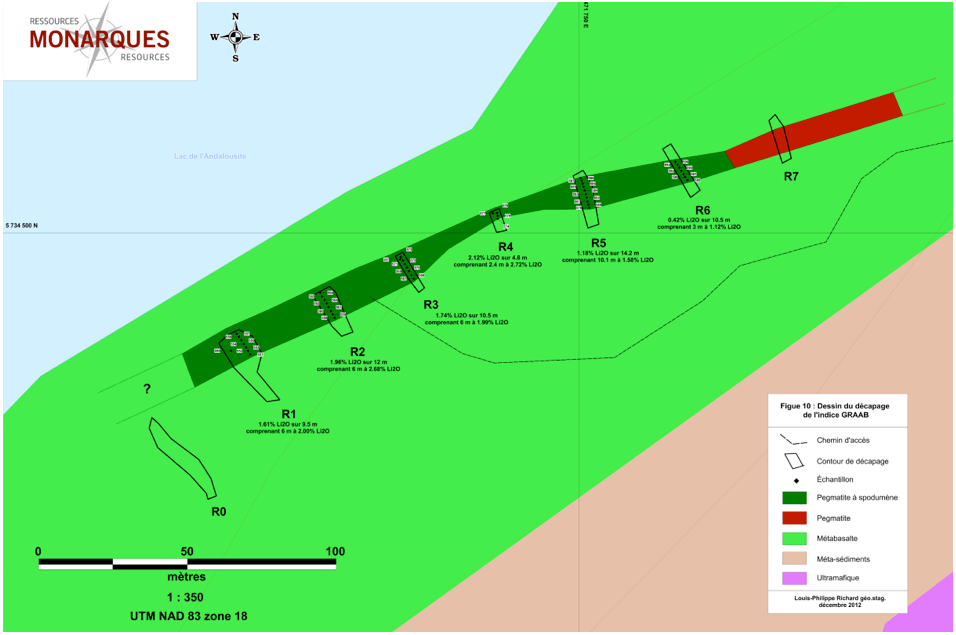 Figure 2. Location of the Lemare project claims in the James Bay area, Quebec, Canada.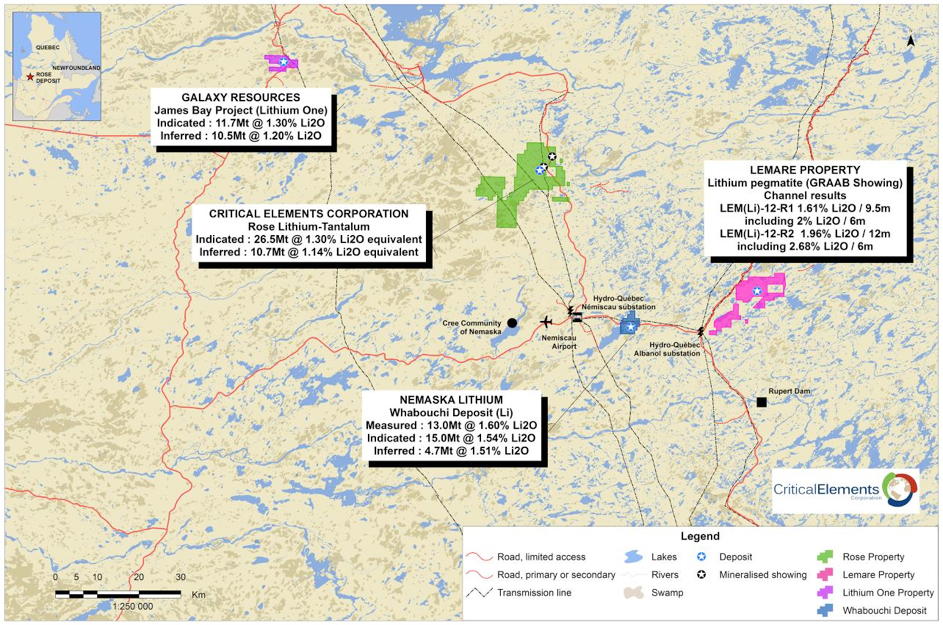 Geology
The Lac des Montagnes volcano-sedimentary formation crosses the Lemare Property in a NE direction. It is composed of paragneiss (gneiss formed of metamorphosed sediment), amphibolites and granitic intrusives. The North of the Lac des Montagnes formation is mainly composed by orthogneisses intruded by granites, while the South area of this formation is composed principally of paragneisses, also intruded by felsic to intermediate intrusives.
Mineralization
Several areas of the property show potential for gold mineralization. The evidence of hydrothermal activity are numerous, for example: the many silicified and oxidized corridors of mineralization associated with pyrite and pyrrhotite, the presence of quartz-tourmaline veins and the arsenopyrite and tourmaline mineralization hosted in shear zones. The showings of the property are summarized below:
The Lac de la Chlorite showing is hosted in a metabasalt with 10 to 15% arsenopyrite and returned gold values of 1.645 g/t, 0.726 g/t and 0.532 g/t.
The Lac de la Sillimanite showing, having previously returned 4.7 g/t Au (Raymond, 2009) was resampled and three grab samples returned 0.877 g/t, 0.368 g/t and 0.125 g/t Au.
On the target NI-8, quartz-tourmaline veins returned values of 0.33 and 0.23 g/t Au.
SE of target NI-1, an outcrop of metasediment with 5% pyrite as returned 0.15 g/t Au. Two boulders in the area returned grades of 0.17 g/t and 0.09 g/t Au.
To the east of Post Albanel, the Ancre showing located in the Lac Voirdye area, a grab sample in a mineralized metabasalt with 1% pyrite returned 0.53 g/t Au, 1.55 g/t Ag and 0.12% Cu.
The possibility of nickel-copper-PGE mineralization is confirmed by the presence of Nisk-1 deposit, located close to the Lemare property. Several magnetic anomalies are present on the property and these have not been drill tested. The GRAAB showing, a spodumene pegmatite with an apparent thickness of 5 to 14 meters by 200 meters has been identified. A total of 43 samples have been gathered on 62 meters of channels. Among these samples, 11 show a Li2O content superior to 2%. This discovery proves that there is always a possibility to find new lithium pegmatites on the Lemare property.
Technical Report
NI 43-101 (Lemare - 11 novembre 2012)
NI 43-101 (Lemare - april 2012)